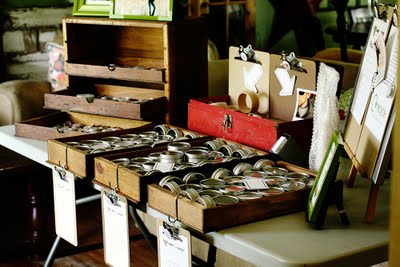 Summer means selling at craft shows. You've put down all the money and spent weeks preparing your products. But how can you make sure you get the most out of the fair? These simple craft fair ideas can make your booth stand out from the crowd and draw in a crowd that will come back after the booths come down.
Booth Color – For some unwritten reason, everyone who's selling at craft shows uses white tablecloths and canopies. Perhaps they enjoy doing laundry or think people delight in being blinded by bright white in summer sunlight. So many booths of the same color make people glaze over them. They see them as a continuum instead of individual places to shop. By choosing a tablecloth or canopy color that matches your brand, you'll not only stand out from the white crowd but will save on any cleaning expenses.
Clear Signage – A well-designed banner will catch your customer's eye and give her an idea of what you sell. It's a good idea to include a picture of your product (especially if your business name doesn't make it immediately clear what you sell) when selling at craft shows, as well as your motto or mission statement.
Be Friendly – Nothing turns people off more than a seller who ignores them. One of the easiest craft fair ideas for generating more sales is to say hello. Or crack a joke to make them feel welcome. When I'm selling at craft shows, I make it a point to compliment everyone who comes into my booth. It not only breaks the ice but allows a customer to brag about the deal she got on her shoes, purse, or earrings. Customers who feel at ease in your booth will stay longer, and therefore purchase more.

How To Build an Artist Website
Sign up for our newsletter and get the book How to Build an Artist Website for free!
Have a Partner – Let's face it; fairs are long and selling at craft shows can be exhausting. Having a partner will not only keep you sane and cheerful, but will improve your customer's experience. She won't feel like she has to talk to you constantly or that you are intently watching her look through your wares.
Free stuff – Kids love free candy and adults are no different, though they may try to hide it. Free candy can rope in a whole crowd of people who might have otherwise walked past your booth.
Business Cards – These are so important because it might be the only way potential customers can find you again once they leave your booth.
Limit Your Items – If you don't already create one of a kind pieces, you can increase a customer's urge to buy by limiting your products. Instead of putting out all 10 prints, just put out 1. You'll create a sense of scarcity and that means the customer will be more likely to listen to her gut instinct and buy the item before it's gone. I personally tried this out at my last art fair and made nearly double what I usually sell.
Bring Your Online Shop – If it's possible, bring your computer and connect with your online store while you're selling at craft shows. If people want something you've sold out or didn't bring with you, you can place the order for them right there.
Give Them a Deal – A person who buys from you at a fair is more likely to be a repeat customer if they have a reason to return. Give out a card with a discount code or throw in a small item when you bag their purchase, such as a note card or sticker.
A lot of food for thought, I know, but the craft fair season is too short to waste and these craft fair ideas will help you put your best foot forward. It's imperative you impress everyone with your products. By making your booth a visual delight and ensuring your customers' experiences are enjoyable, you'll be well on your way to being Queen of the Craft Fairs.
photo: Polarity's fair booth