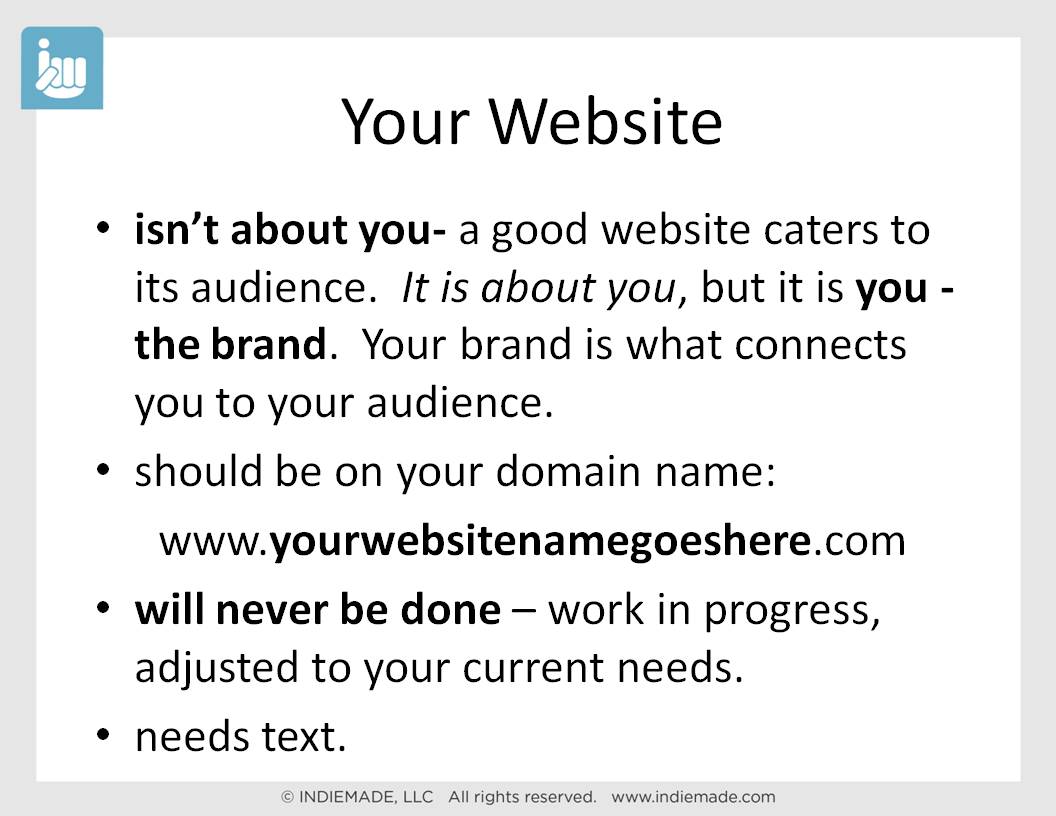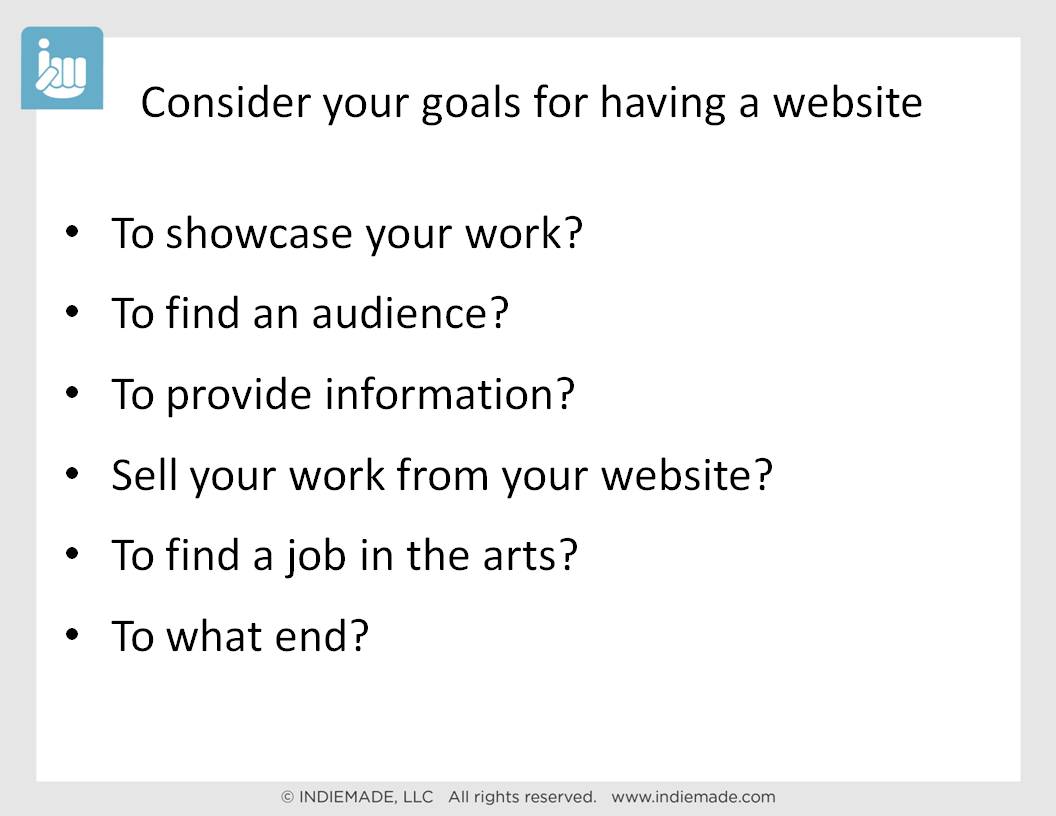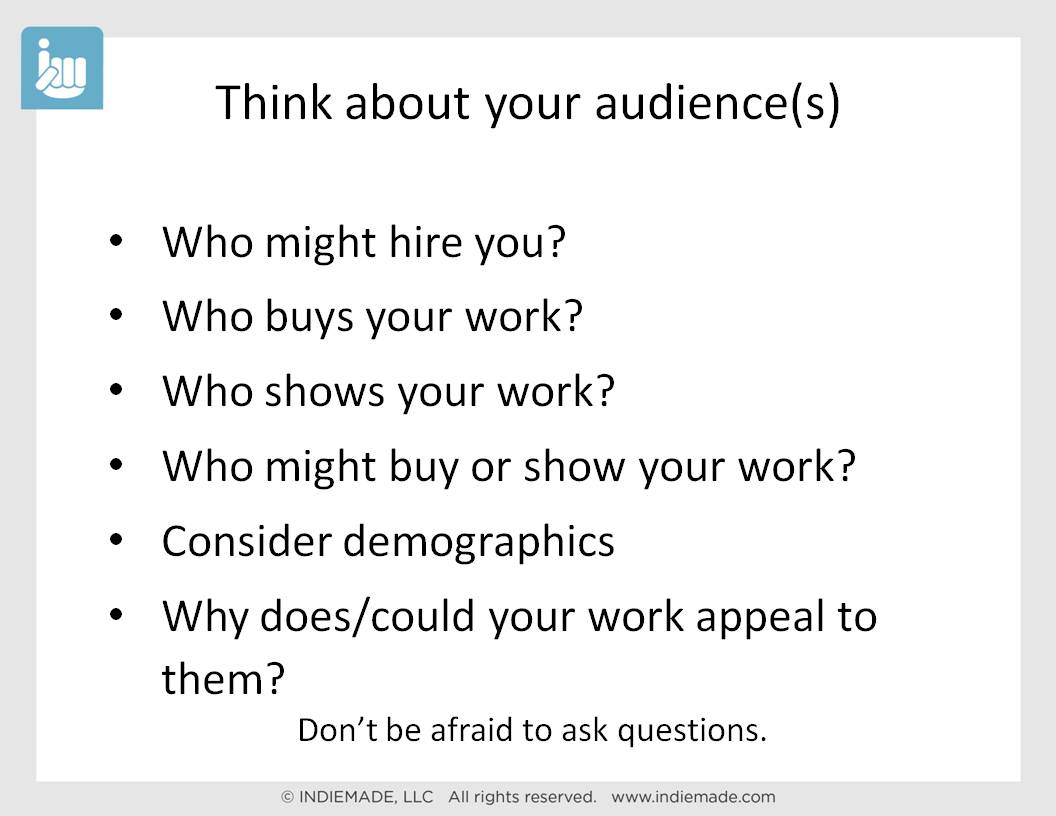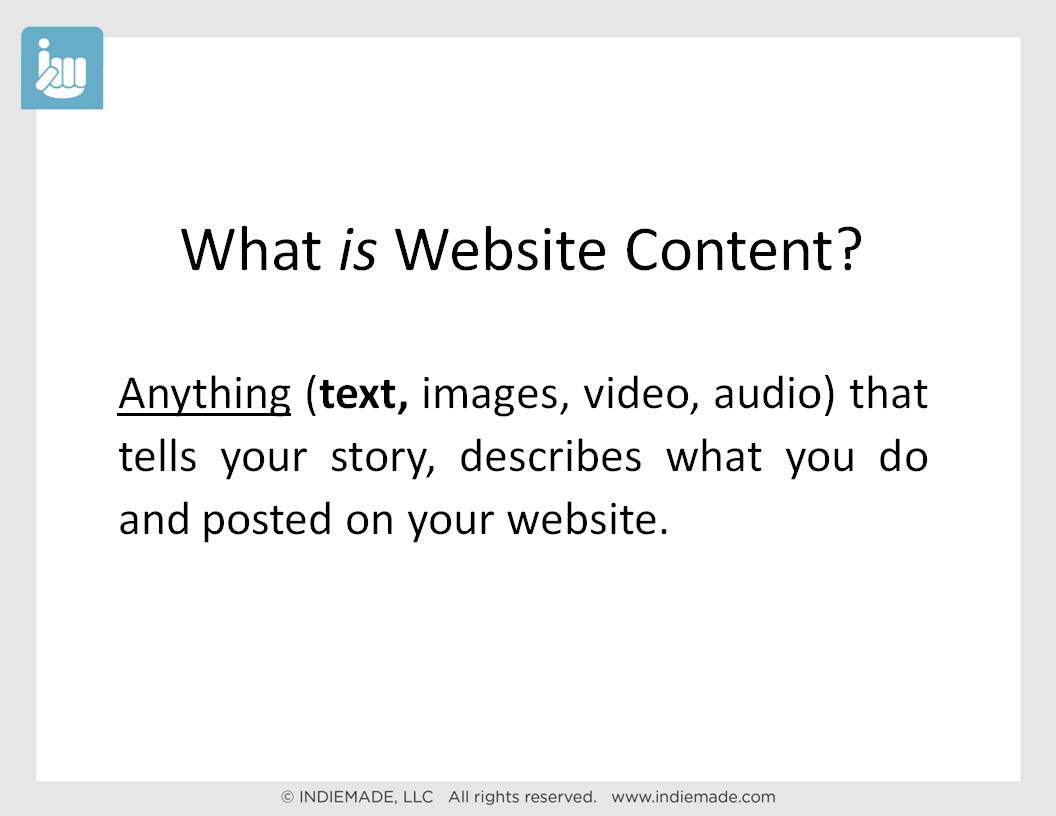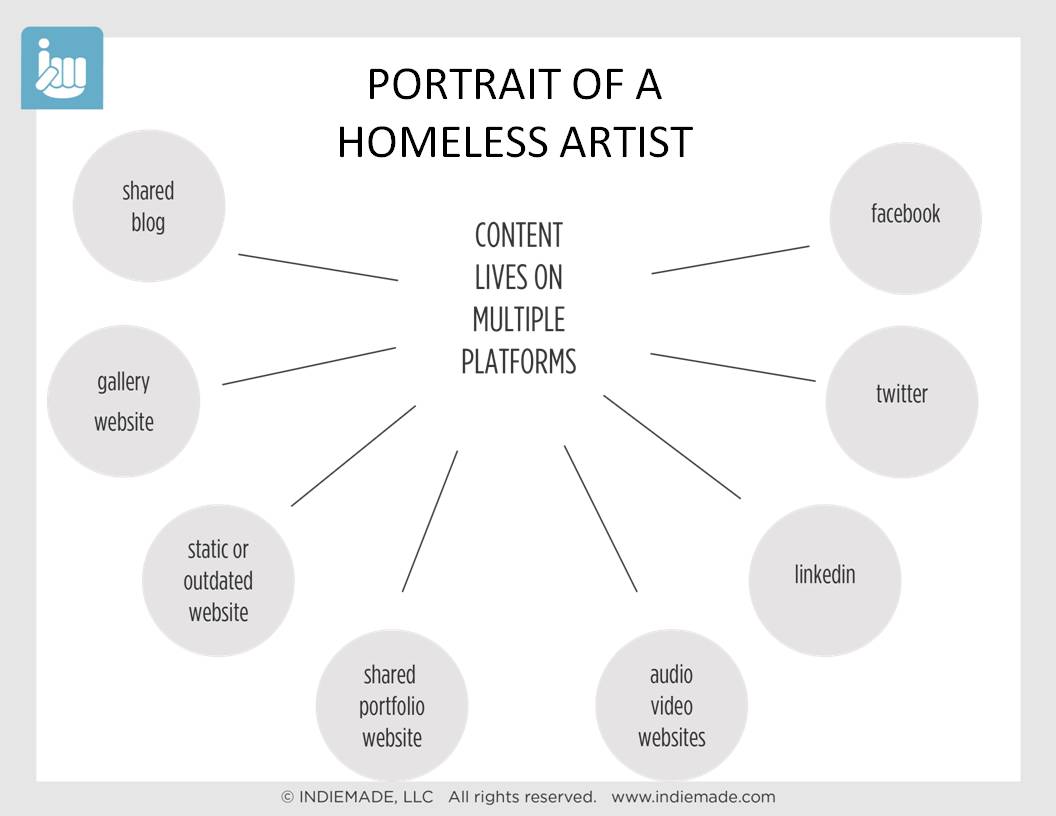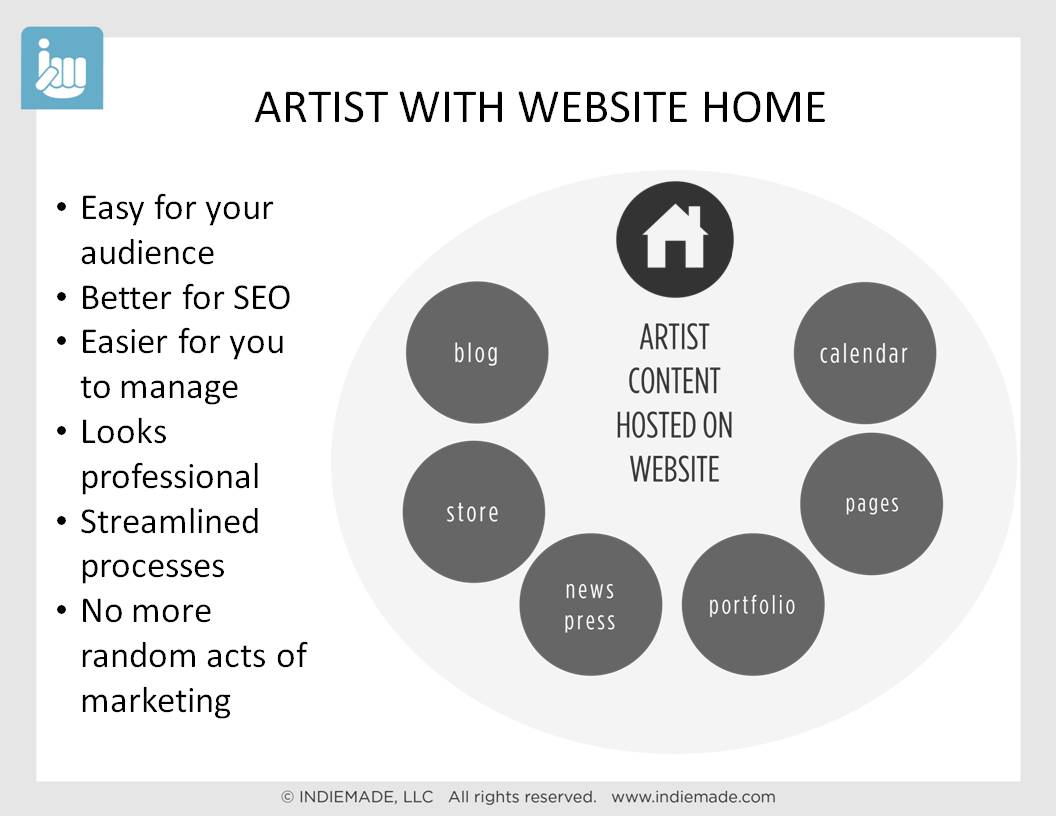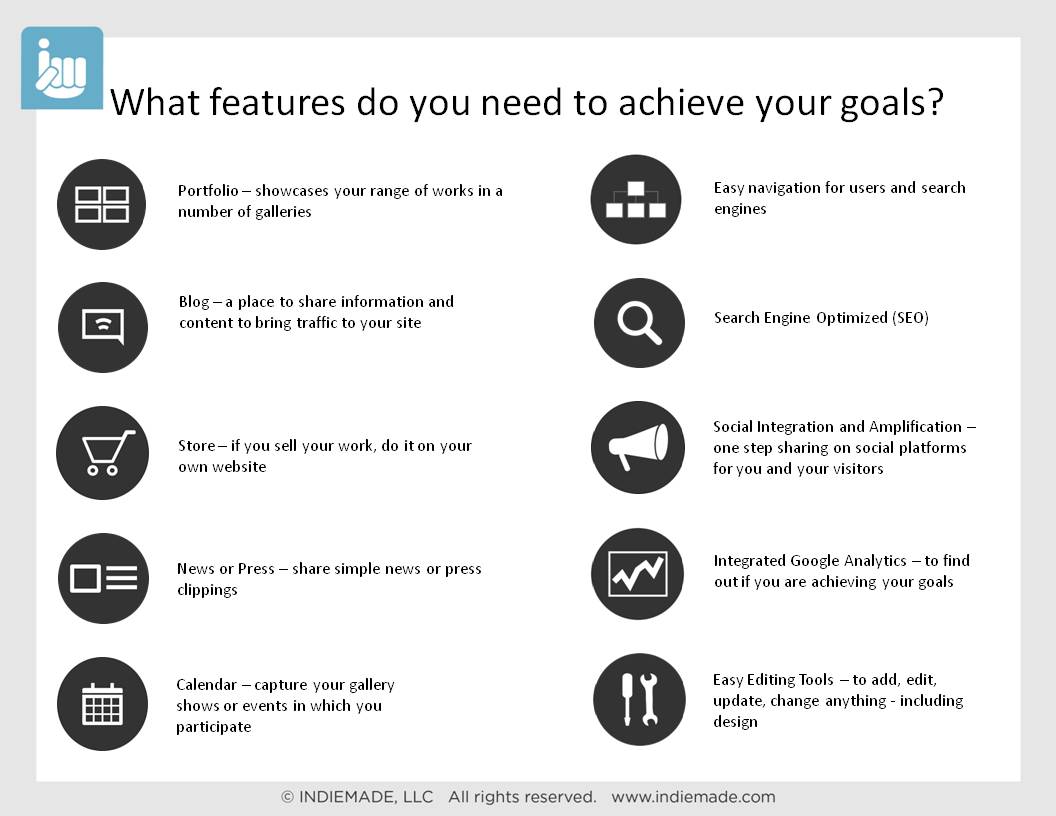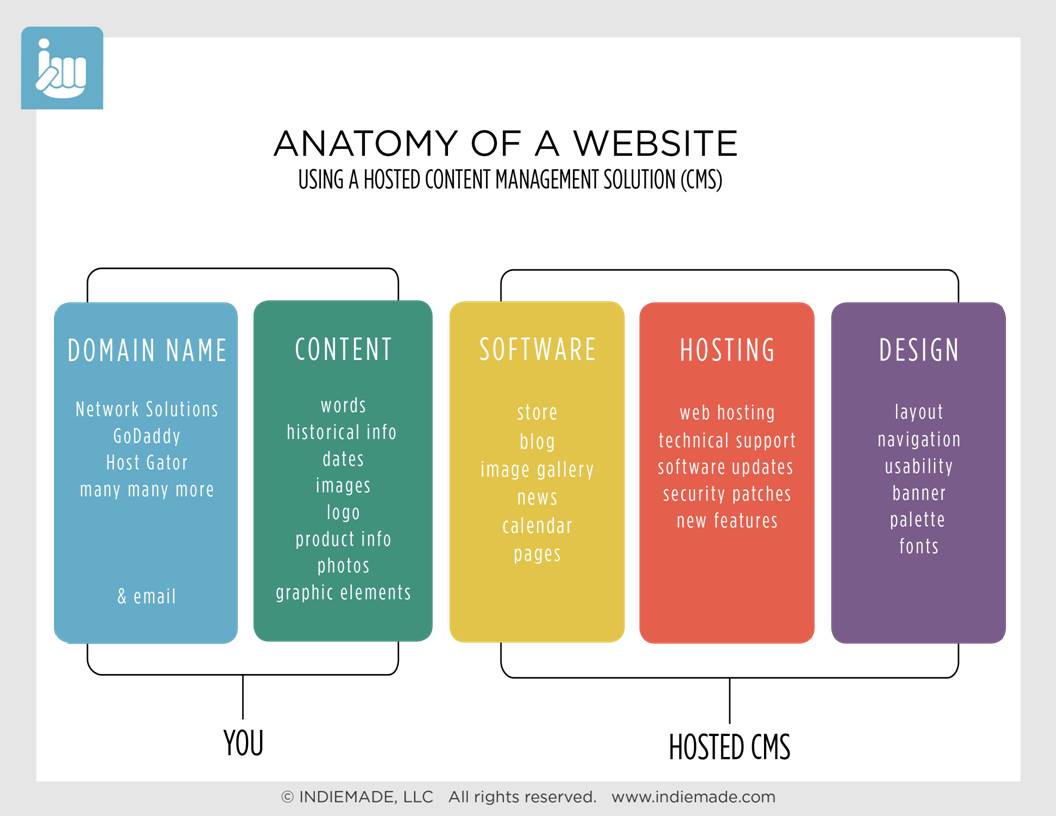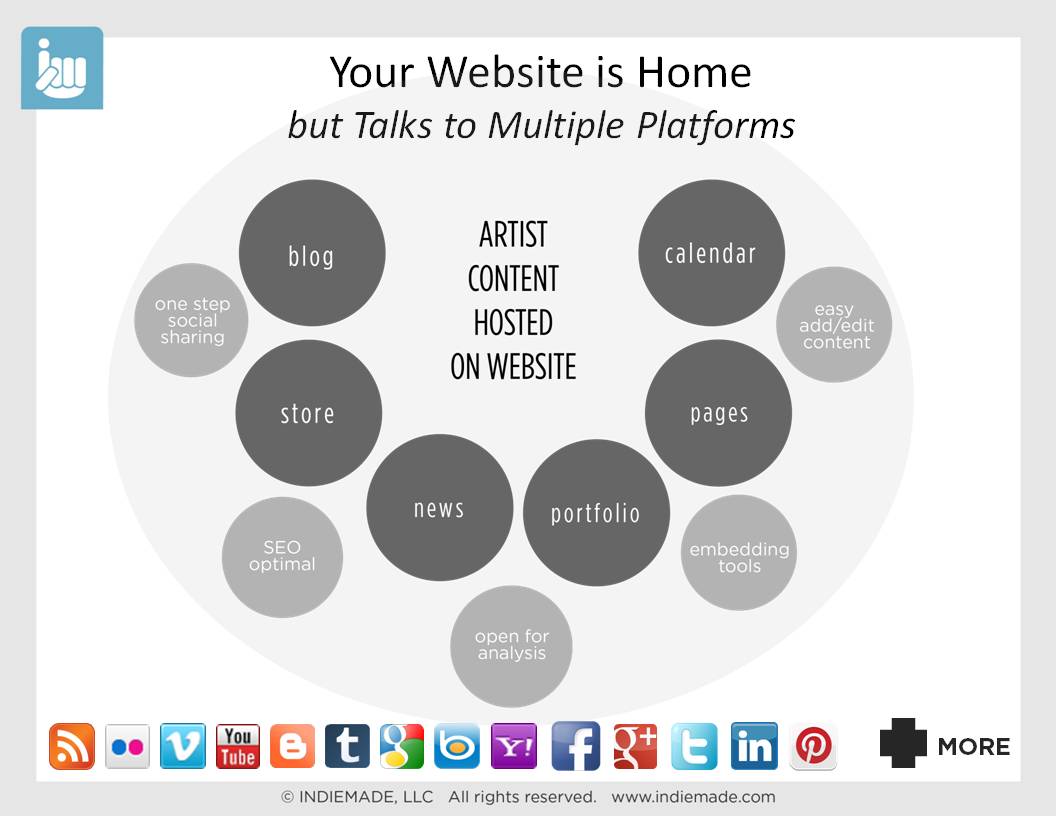 Click to Enlarge
I wanted to share some slides from a presentation I gave for Paul Klein's art business video classes.
Overview
Anatomy of a Website
Considerations
Website Content
Good Website Design
An Artist's Website Home
Content Management Systems
Features for Your Website
Options for Website Publishing
Your Website
isn't about you- a good website caters to its audience.  It is about you - the brand.  Your brand is what distinguishes you and connects you to your audience. Your identity.
should be on your domain name www.yourwebsitenamegoeshere.com
will never be done – work in progress, adjusted to your current needs.
needs text.
 Consider your goals for having a website.
To showcase your work?
To find an audience?
To provide information?
Sell your work from your website?
To find a job in the arts?
To what end?
Think about your website's audience(s)
Who might hire you?
Who buys your work?
Who shows your work?
Who might buy or show your work?
Consider demographics
Why does/could your work appeal to them?
What is "Website Content?"
Anything (text,images, video, audio) that tells your story, describes what you do and posted on your website.
Guess What? You Have Ready Made Content
Images of Your Work
Credentials, Bio and Affiliations
Artist Statement
Upcoming Events
Press Clippings
Reviews
Other Media to Consider
Audio / Video
Headshot
Event Photography
Start your website now, add your content and edit as you learn more.Add your content now, edit as you move forward.
Website Design Tips
Be un-clever (don't over think it)
Your website is not your artwork
Design should not compete with the artwork
No involuntary audio
No information overload
Neutral background
Cohesive layout
Makes good use of screen space
Consistent navigation
Portfolio slideshow
Easy access to information
Should be speedy
PORTRAIT OF A HOMELESS ARTIST - See slides for graphic

How To Build an Artist Website
Sign up for our newsletter and get the book How to Build an Artist Website for free!
ARTIST WITH WEBSITE HOME - See slides for graphic
What features do you need to achieve your goals?
Portfolio – showcases your range of works in a number of galleries
Blog – a place to share information and content to bring traffic to your site
Store – if you sell your work, do it on your own website
News or Press – share simple news or press clippings
Calendar – capture your gallery shows or events in which you participate
Easy navigation for users and search engines
Search Engine Optimized (SEO)
Social Integration and Amplification – one step sharing on social platforms for you and your visitors
Integrated Google Analytics – to find out if you are achieving your goals
Easy Editing Tools – to add, edit, update, change anything - including design
What is a Content Management System?
A content management system (cms) is a software platform (web application) that allows a non-technical entrepreneur create, add content, edit and manage a website of their own.  
IndieMade is a website content management system for artists and micro entrepreneurs.
Your Website is Your Home but It's Set Up for Socializing!
All of your content should be at home on your website.  Having your content in one place is easier on your audience, helps with SEO and building an online presence for your brand.  Today the technology is available with easy-to-use management tools so even those new to web software can construct a website of his/her own.