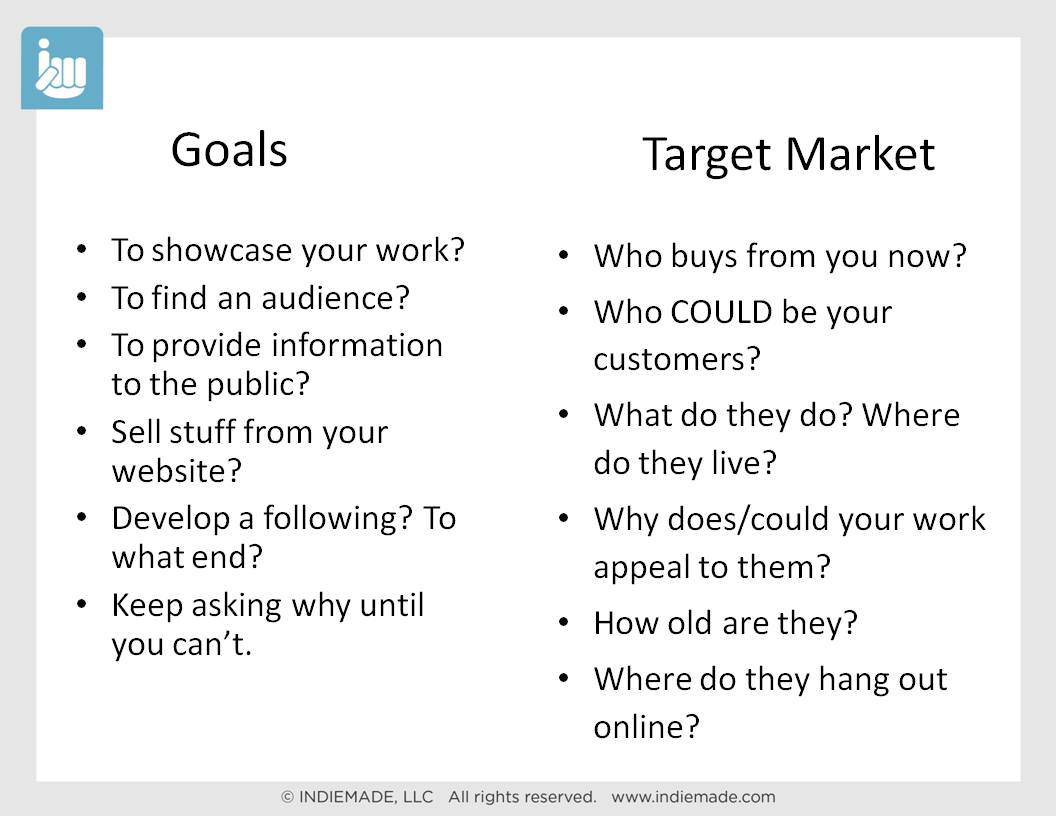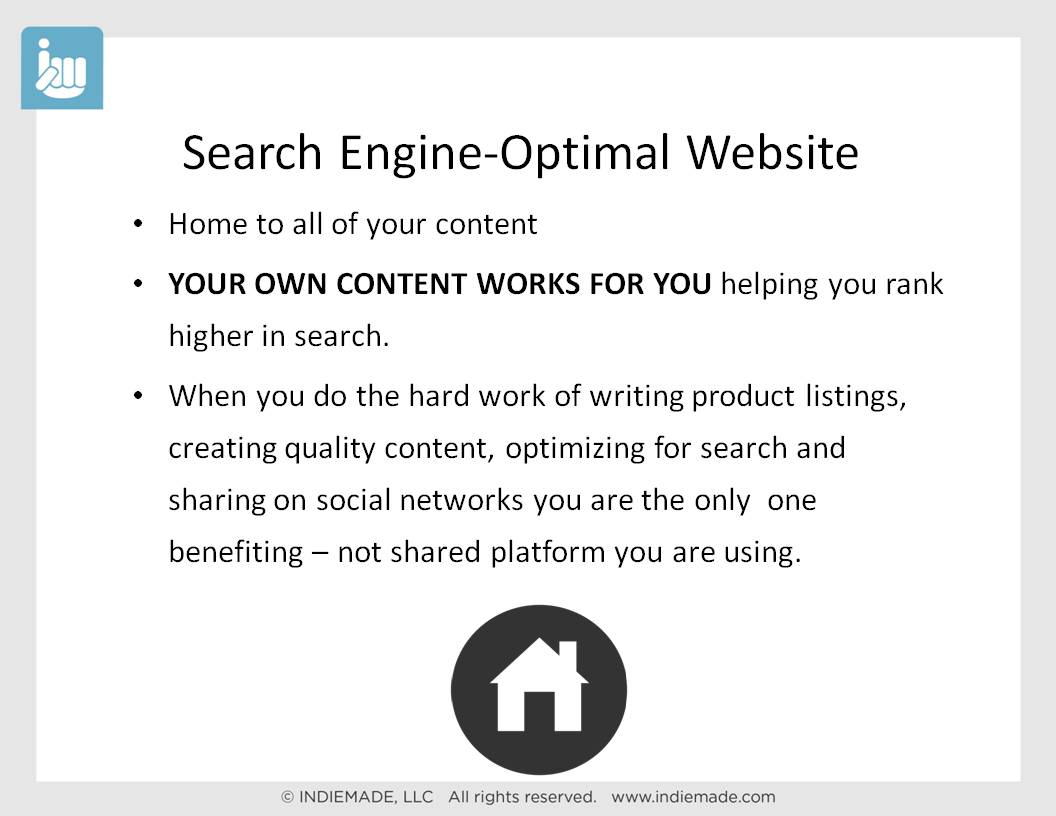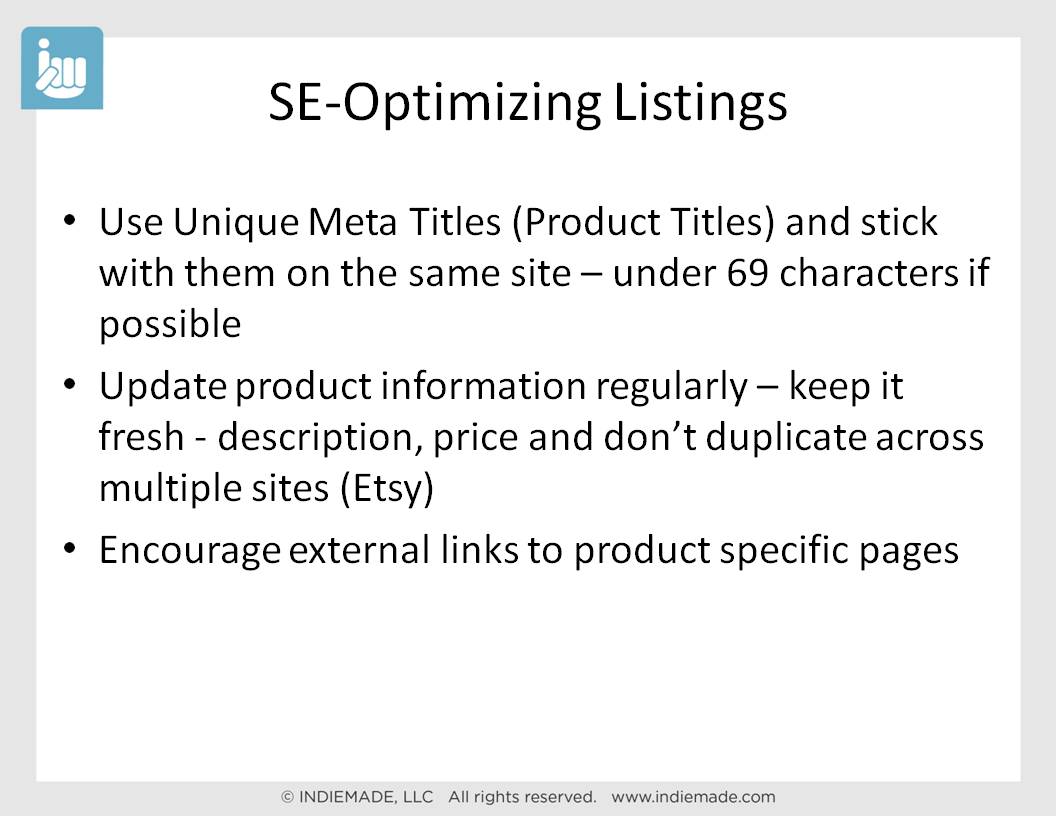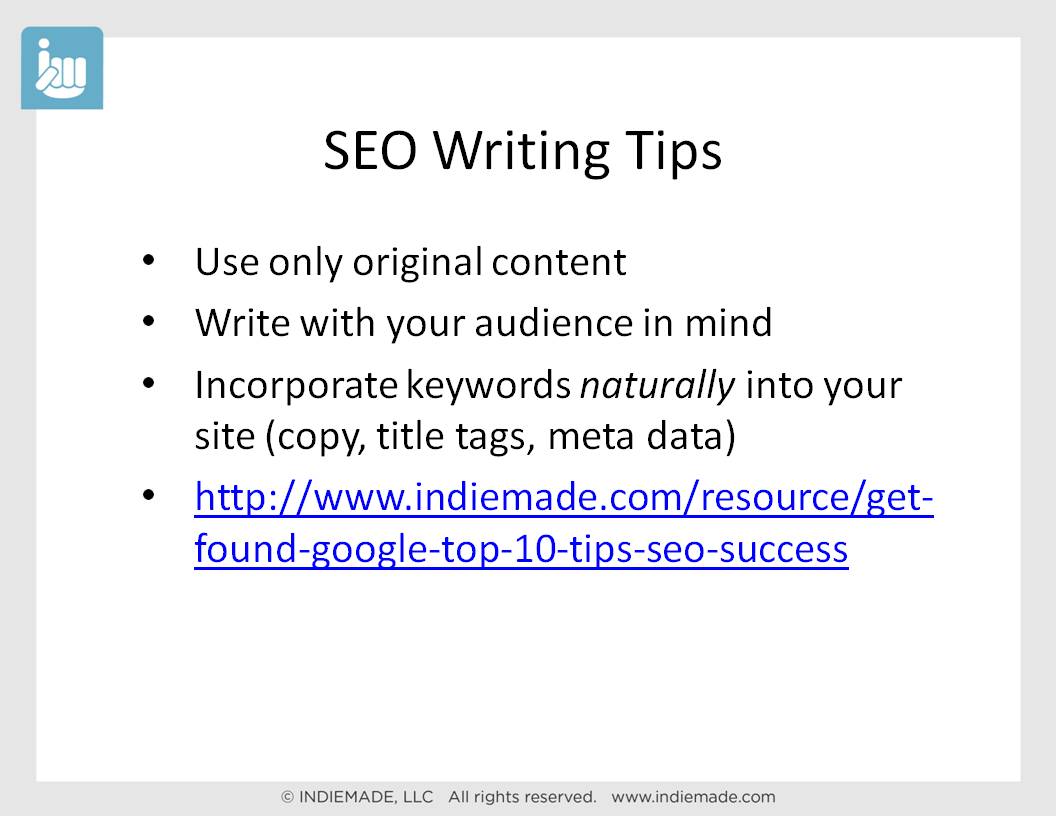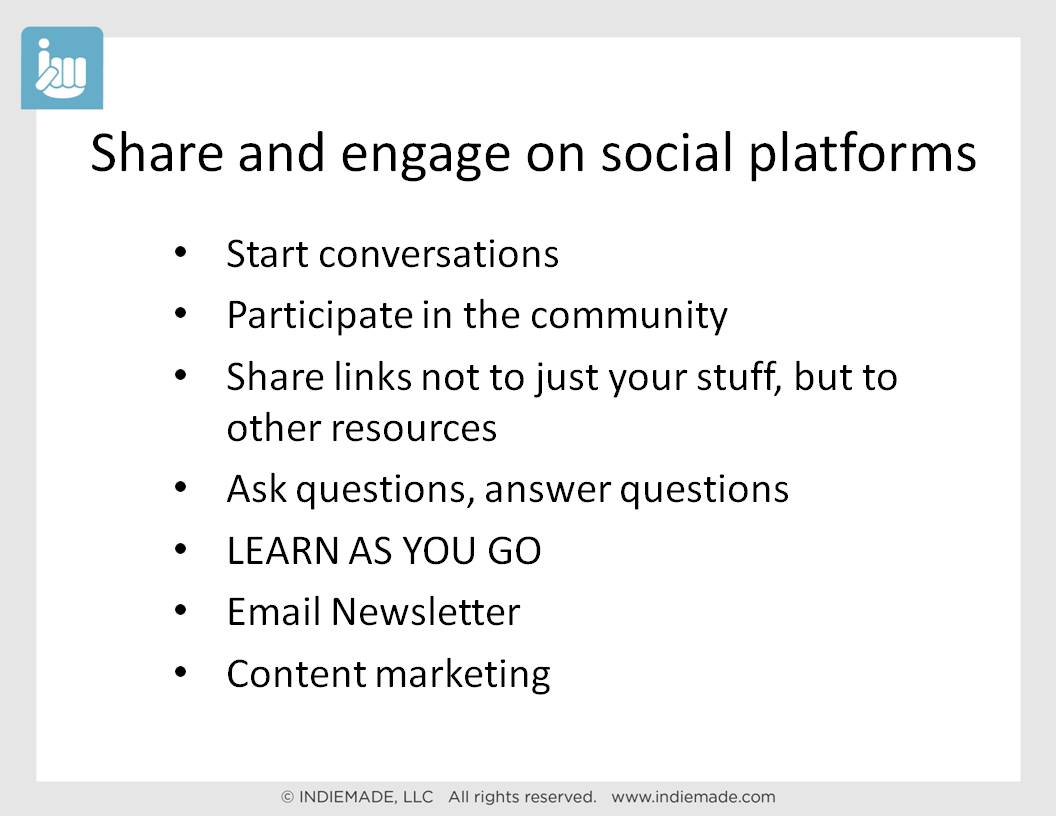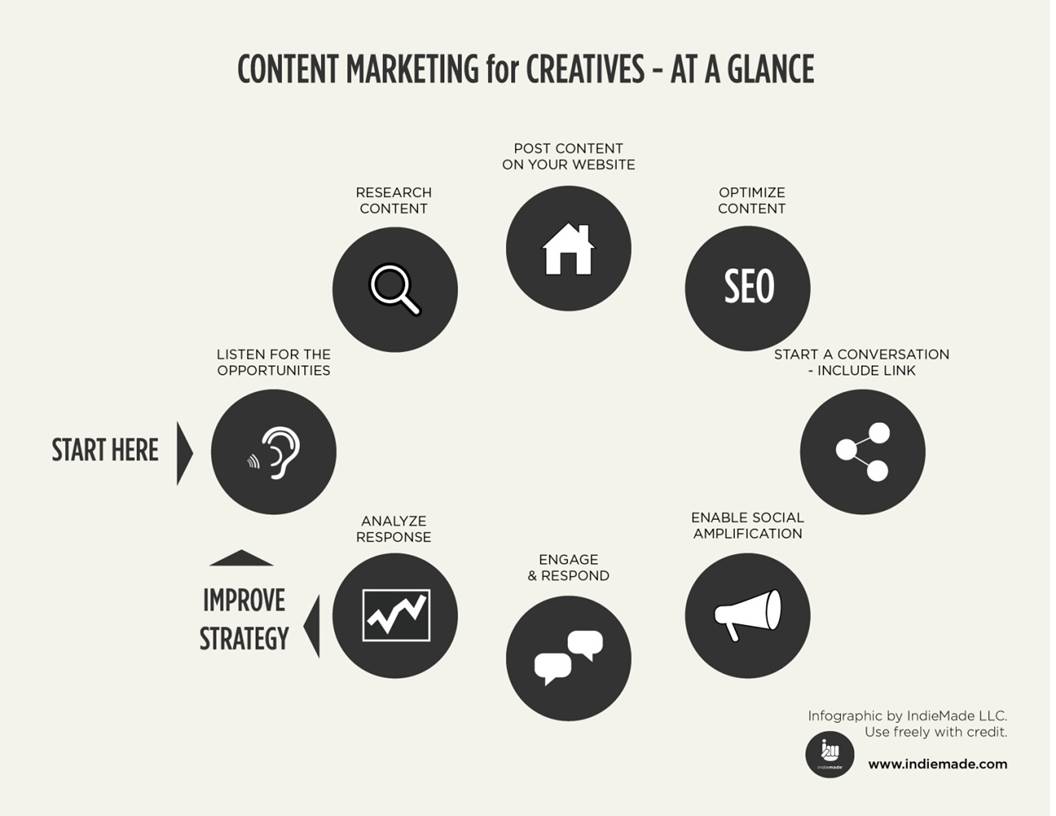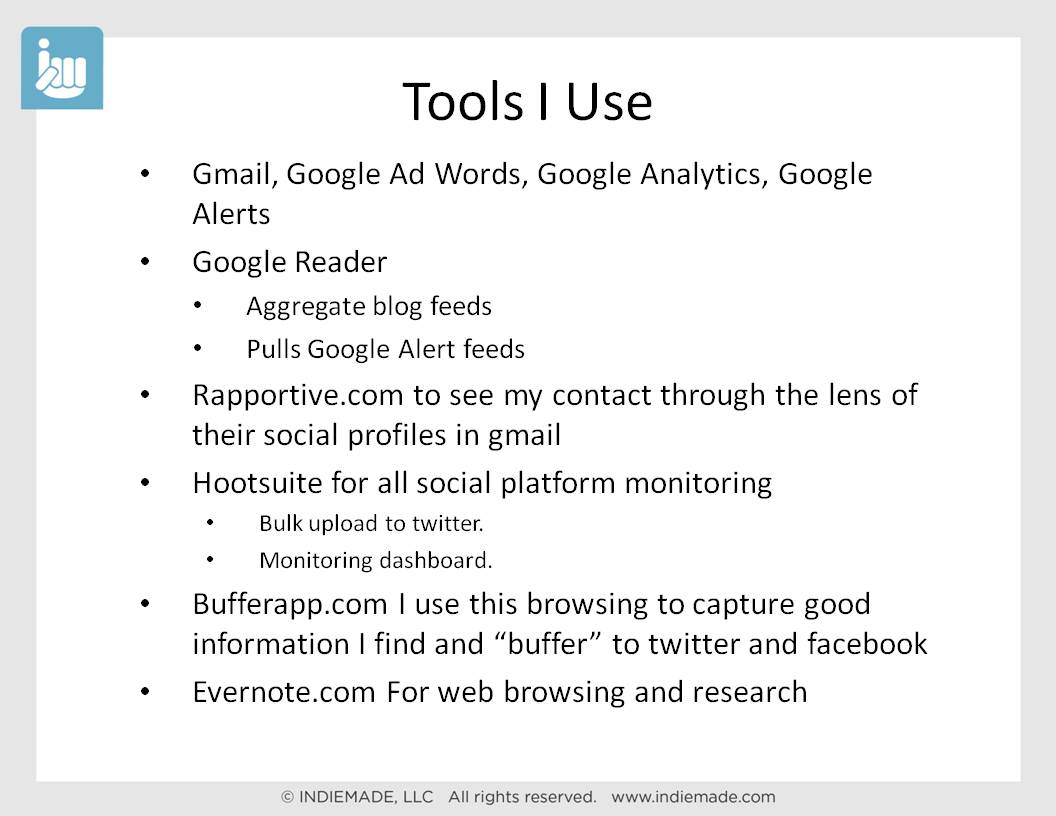 Click to Enlarge
This presentation is an overview of how SEO works on your website, why it's important and how your handmade product descriptions can be SEO'd in each of your sales venues (Etsy).  Search engine optimization is simply providing the robots and spiders (web crawlers) the information they need to index your website.  HUH? You say.  The only way to "get found" on search engines is to populate your site with website "content."  Website content all boils down to text.  So anything written, be it product descriptions, blog posts, articles, calendar items (think art show, performances and craft fair events in which you participate), and even images and videos must be described in text in order for search engines to know they are there and what they are.
Thank you
Craft Mafia
for hosting the presentation. I was also lucky enough to co-present with
Heidi Gustad of HandsOccupied.com
.  She is a craft star and also we slightly resemble each other.  Beyond that we have had careers in library science and cataloging (content, data, indexing) and understanding how databases work.  Heidi is a librarian and I spent many years automating libraries around the Midwest.  
Okay, the basic steps I will be discussing are these:
Define your goals
Research and define target audience
Invest in a "search engine optimal" website
Choose good keywords
Generate quality content with SEO in mind
Share on social media
Get link backs
Listen and learn
Use traditional marketing to bolster your optimization efforts
1. Define your goals for your brand, indie business and website.
To showcase your handmade work?
To find an audience?
To provide information to the public?
Sell your stuff on the website website?
Develop a following? To what end?
Keep asking why until you can't.
2. Research and define your niche target market(s) 
This includes demographic information, but also researching markets and finding out where they are online.
Who buys from you now? Who COULD be your customers?
What do they do? Where do they live? How old are they?
Why does/could your work appeal to them? Don't be afraid to ask!
Where do they hang out online?
What similar (non competing) products do they buy?
3. A Search Engine Optimal Website Works for YOU
When you have your own website, YOU are they only benefactor of the hard work of writing product listings, creating quality content, optimizing for search and sharing on social networks.  Make sure your website:
Is home to all of your content
Submits sitemap on your behalf
Generates search engine frienly urls
Content is automatically tagged, but editable (meta tags, H1, etc.)
Highly flexible, allows adding and editing content - adjusts with you
Built in content modules like store (shopping cart), blog with RSS feed, image galleries, calendar, press, and custom pages – all on your website
Integrated social sharing so your visitors can share with their networks on Facebook, Pinterest, and other social platforms
For more on meta tags and html, this article by Brad Shorr is a great summary.
4. Find the Right Keywords for Your Art Business
This is a science, but overall, indie entrepreneurs and creative business owners will not win the seo game competing with the big boys on general search terms.  So it is best to pick low competition keywords with enough people searching for the term monthly.  I use the free tool 
Google Keyword Tool
 (part of Google Ad Words) to pick the right keywords.
Here is an example of trying to find out how to compete for the keyword phrase "druid necklace."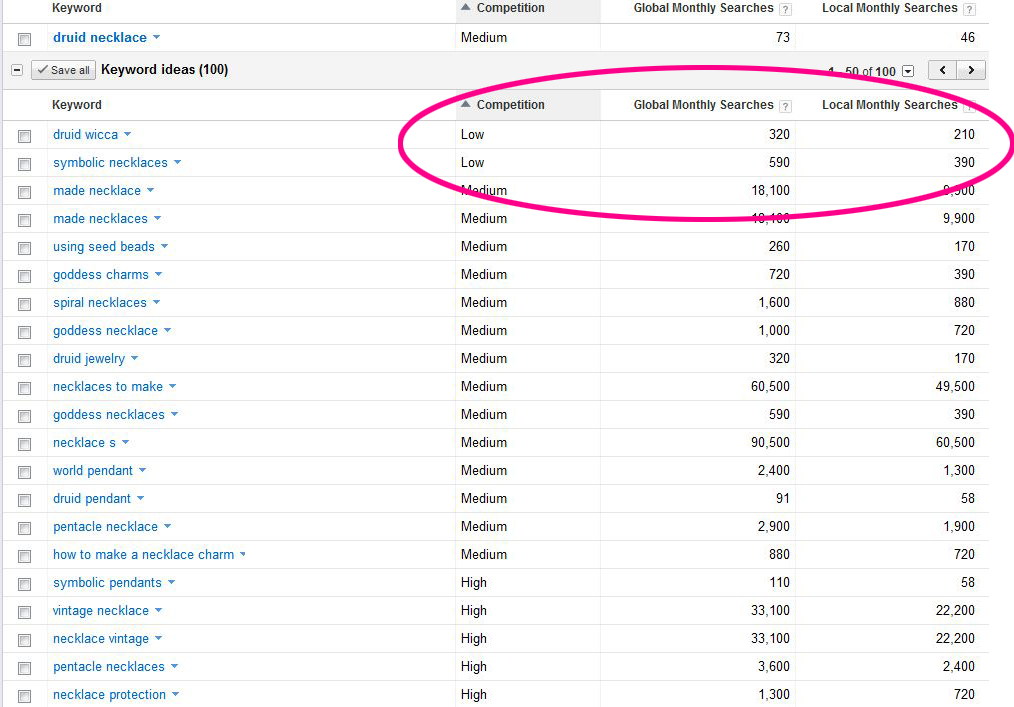 The number of keywords (keyword phrases) will depend on what sort of artist entrepreneur you are and how much content you have (including listings).  Product listings turn into pages, and its best to target 1 or 2 keywords per page.  A good rule of thumb is Keyword Density should be 3-4% in the content.

How To Build an Artist Website
Sign up for our newsletter and get the book How to Build an Artist Website for free!
Also, consider targeting 2 keywords for your business itself.  Use these keywords describing your business in your bio, about us text and policies pages.
5. Generate SEO (Quality) Content
Anything that tells your story, describes what you do and posted on your website (text!), images, other media like video
Formatted for humans first, but is attractive to robots and spiders. (Proper tagging)
Fresh, consistent content tells people and search engines you are  relevant
Enough content to be an "authority" – why its good to have it on the same site
Valuable (shareable) content
Other Clever SEO Strategies
Register your domain name for years
Take advantage of local search when possible - less competitive - Yelp, Google Pages, Yahoo, etc.
6. Share and engage on social platforms
Social platforms continue to grow in importance to search engines.  Search engines consider your social media authority when ranking your website.  Here is a great post and infographic I found about social media. Social media is terrific for acquring link backs to your site.
Listen first
Start conversations
Participate in the community
Share links not to just your stuff, but to other resources
Be helpful
Ask questions, answer questions
Self promotional posts should be kept to 10% of all of your social posts.  
7. Get Link Backs and Generate Internal Links
Back Links or Link Backs occur when someone links to your website.
 Here are some rules of thumb.
  Reach out to friends on social media, bloggers in your niche market and anyone else that may be interested in what you have to say.  Other tried and true methods are:
Guest Blog Posts
Blog Commenting
Footer Links
Forum Profile Links
Internal links are links that reside inside of your website.  For instance, you might reference a pair of earrings within the product description of a similarly styled necklace and provide the link (copy the url) to the earrings.
Fear Not Content Marketing 
BTW, content marketing and social networking can be an affordable way for a small creative business to shine online.  In some cases we are on equal footing, it is the democratization of marketing. As artists, we are targeting niche markets and we ARE in fact content creators.  Writing is also a good way to keep in touch with your "muse."  Seasoned artists are a wealth of information than can be shared to younger artists. And of course, any glimpse behind the scenes of your studio or shop are sure to attract attention.
8. Employ other Marketing Tactics with SEO Program
Participate! Events, parties, etc.
Networking (online and off)
Try your local Meet-ups
Tease your site's content by generating an email newsletter
Promote your site at every customer touch point — signage, business cards, email signatures, etc.
Put on your creative thinking cap!
9. Listen and Learn
Once you have some posts and products up, you will want to consider adding Google Analytics to your site to see what marketing methods are working.  You can explore how much traffic you are getting, where your traffic comes from, how quickly they leave and you can also track how much traffic becomes a "conversion" - 
Google Alert Feeds - great for "listening" to topics discussed online
Google Reader - terrific way to capture (aggregate) all the blogs you read and Google Alerts you set up
Google Analytics - again for monitoring your site's traffic
Facebook Page Insights - for your Facebook Page for your Business
Other Useful Tools 
For scheduling your posts, a spreadsheet in Google Docs is a great place to start collecting and developing ideas and then date when they are "due"
Besides, Gmail, Google Ad Words, Google Analytics, Google Alerts and Google Reader, I use:
Quality + Consistenly + Baby Steps
Now this all sounds like a lot of work.  It is a lot of work.  But is doesn't all have to get done at once.  If you just keep in mind your audience and post quality content consistently. Consistency is more important than volume when it comes to posting content.  Twice a month is better than one full week of posts and then nothing for 4 months.
I will be posting Etsy Optimization Tips very soon.  Thanks so much!