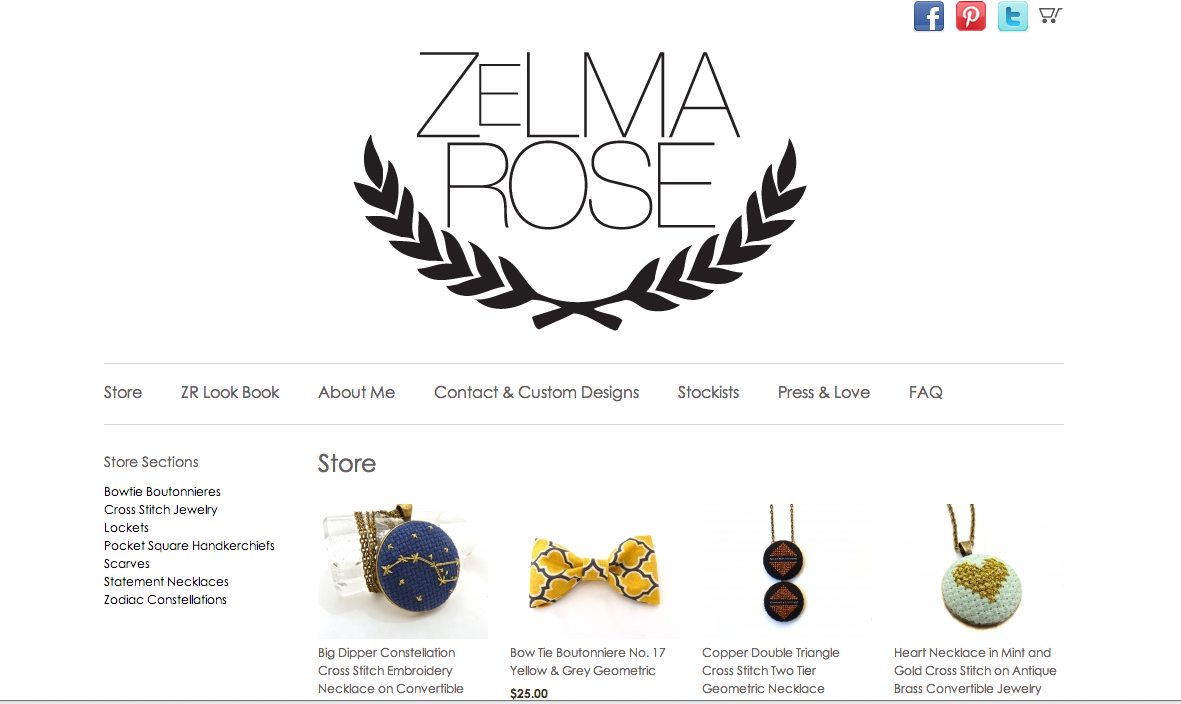 Click to Enlarge
Online shoppers spent a total of $226 billion last year and that number is projected to grow by 62% by the year 2016.  If you are a small business owner, you need a website!
Taking the first steps to create a new website can feel overwhelming. But because it's clearly so important today to have a strong and sustainable web presence, the work and energy put towards creating a well-run website for your business is well worth it. 
What Do You Need?
When diving into the wide world of online sales, the first thing to consider is your needs. How many items are you selling? How many pages do you think you need?  Will you be blogging? Will your content be photo-driven, or more text-based?
I recommend making a list of all the things you would like your website to provide.  Pull some research together from websites that you like and make a list of what features speak to you — from content to customer service capabilities to tools to help small business owners run their sites. (Check out IndieMade's Plans and Pricing page for an overview of the features that come with each of our plans.)

How To Build an Artist Website
Sign up for our newsletter and get the book How to Build an Artist Website for free!
Choosing a Provider
Once you have a wish list, the next step is to choose a provider. There are many to choose from, but as a creative business owner, you are most likely going to need a site with an easy-to-operate shopping cart, strong SEO capabilities, and, if you're not a web designer, a quick and easy-to-use template. If you're not already tech-savvy, you probably do not want to spend hours trying to learn HTML code when you could be using that time to make product, take great photos, or write killer product descriptions!
IndieMade offers a range of built-in themes, or templates, to make website work easy breezy. Don't like the theme you've chosen? You can switch to another any time you like, without losing any content.  Plus, our shopping cart is built right into your site and allows you to take payment via Paypal, so there's no need to program your own shopping cart or set up secure payment methods on your own.
Great SEO, or search engine optimization, helps connect you with potential buyers who are searching Google for products they want to buy. Many website providers, including IndieMade, build in SEO tools to help maximize your exposure so that buyers can easily find your site. For more information on how IndieMade uses SEO, visit this helpful info from the FAQ section. 
Finally, if you already have purchased a custom URL through a domain name hosting company, you'll want to make sure that the website platform you've chosen allows you to point your URL to your site. IndieMade allows you to use your custom domain name with all but our lowest-end monthly plan; visit this handbook page for step-by-step directions on how to point your URL to your site.
Get Your Site Ready for Customers
Once you have chosen a provider, the next step is to get your message ready for the web.  This means great photography, a concise mission statement, and inviting product descriptions. Shoppers will give you about 60 seconds to decide if they are going to buy your product or hire your service. One way to put your best foot forward online is by creating an engaging "about me" page.  Let potential customers know the story of your business and what makes your product unique.  
You are selling an experience online, so consider all the things that need to be communicated about your product when it cannot be held and touched in person.  You really need to sell your craft! So you'll want to make sure that your photos and descriptions are showing your customers what makes your products special and why they should buy from you! Check out these helpful tips on product photography and item descriptions from the IndieMade Resource section. 
Be Easy to Find
Part of selling online is letting customers and potential customers know where to find you.  A well-thought-out contact page is a must!  Whether it is through email, social media, phone, or brick and mortar address, don't be shy about letting people know how to get in touch. Considering a platform that provides buttons to social media is a plus.  Allowing your customers to link to Facebook, Pinterest, Twitter, and Instagram from your website allows for a seamless follow from your fans.  Incorporating social media into your site also helps define the story for your brand and business.  Allowing customers to easily visit your Pinterest boards means they can get a deeper sense of your visions as a designer, maker and service provider.  You can read more about how IndieMade incorporates social media into customers' sites here.
Remember, creating a successful web presence takes time. The good news is that, if you've chosen a site that works well for your business, you can keep on revising and making changes based upon analytics, sales, and trends. Your website should not be seen as a project with a final outcome, but an ongoing investment that will carry your brand's message to the masses.