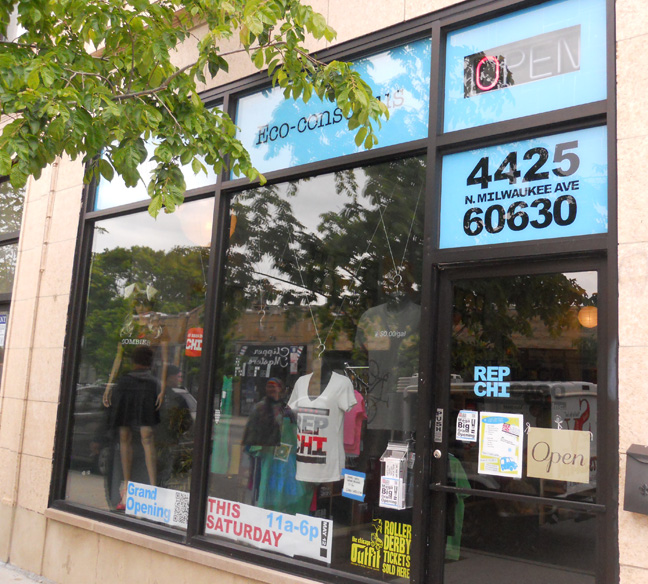 After almost five years of running their eco-friendly T-shirt and custom screen-printing business, Replica Chicago, out of their house, Lyn and Jeremy Hooley recently took the enormous step of opening a brick and mortar shop at 4425 N. Milwaukee Ave., Chicago. How can creative business owners know whether the time is right for opening up a store? Lyn recently shared her experiences with IndieMade.
What made you decide to get your own store?
We did pretty well with our retail shirts when we would do Chicago street festivals, so getting into a storefront meant more exposure than just dot-com or late May through early September festival sales. A storefront also let us have a place to meet with clients for custom projects. 
Before you opened your brick and mortar shop, what did your workspace look like?
In addition to the REP CHI brand apparel and custom work gigs, we do a fair amount of screen printing, shipping, and fulfillment for our friends' businesses and organizations who don't have the capacity to sell on their site. So we have a ton of STUFF.  For a few years, the business took over our spare bedrooms. Then, about a year ago, it kicked us out of our master bedroom to make way for more inventory and stock. Garment boxes would fill the majority of our living room, and by the end, the place was a labyrinth of machines and materials.  Either it looked like a T-shirt hoarding situation or a sweatshop.

How To Build an Artist Website
Sign up for our newsletter and get the book How to Build an Artist Website for free!
How long did the process of opening up a store take, from beginning to end?
We started seriously looking on Craigslist in November'ish.  I had set a goal for February 1 to help stay on track, since custom work keeps us occupied.  Spring is the time when things start to pick up and events start happening, so we wanted to be settled before that hit.  We found a place that we were super excited about, but our funding dreams fell through in early January. We revised our plans and, while looking at more workspaces than I can count, landed in Jefferson Park (coincidentally the first place we saw!) in mid-February.  Each space had its own different potential and possibilities, from the surrounding neighborhood and natural foot traffic to the actual footprint and layout of the store.  Our grand opening was May 12. So, all in all, about three or four months.  Though had we been fast with our decision, we could have had it all solved with our landlord, First Western Properties, in, like, three days.
How did you go about finding the right space?
Craigslist.  We also drove around the neighborhoods that we wanted to be in and wrote down websites and phone numbers, looked up additional listings by the same property management companies, and researched vacancy listings in our ward and surrounding wards. But Craigslist = magic.

Lyn and Jeremy Hooley recently celebrated the grand opening of their brick and mortar shop, Replica Chicago. In addition to their own screen-printed apparel, they also feature the work of other Chicago handmade artisans.
What were some of the biggest challenges you faced in opening up a store?
The capital/monetary means. When you try to grow and pinch every penny, it's a pretty big step to then afford additional merchandise displays, the obligatory credit card processor, security and insurance, the additional inventory needed to fill out the space, the paint for the walls, the unknown maintenance factors, and everything in between.
Is there anything you learned during the process that you wish you'd known at the beginning?
We learned about triple-net leases mighty quick.  Before you fall in love with any space, make sure you understand the type of lease on the space and what your financial obligations would be.
What should creative business owners consider when they are trying to decide whether to open a brick and mortar shop, or just keep running their business out of their house?
Having a storefront doesn't mean immediate or automatic business, so if you're doing fine surviving online, then keep at it until you have to kick your business out.  I desperately needed to separate my work life from home life, and a retail location allows a massive mental break.   Also consider if you need additional hands or help to make what you're making.
What advice do you have for other creative business owners who have decided to take the leap of opening up a store?
Ask all your friends who are already doing what you aspire to be for their thoughts, advice, ideas on your big news.
Are there any pitfalls that entrepreneurs should look out for when going through this process?
Don't get caught up in optimism bias, and know that things take time, I've learned that things rarely go exactly as planned, so being able to adapt to changes can really help.  It can get really hard, but if you're working on your own, you probably already know that. Just don't give up!