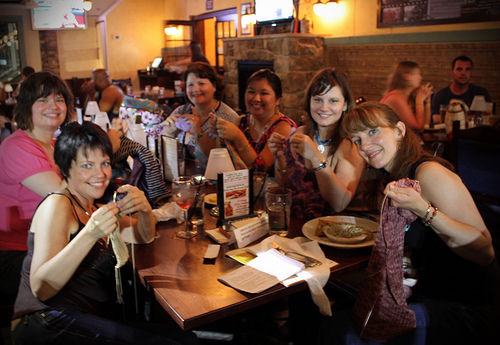 Have you ever worked on a piece and at some point found yourself talking to your cats? Or maybe just the walls? Chances are you have, because being a maker often means creating in isolation.
However, there are a bounty of craft communities and resources online. The list below is a compilation of sites that can help you stay connected, informed, and make you feel like you are part of the ever-growing crafting community.
ALL MAKERS
C.R.A.F.T. Craft Retailers & Artists for Tomorrow
A crafting community with makers, retailers & galleries.

How To Build an Artist Website
Sign up for our newsletter and get the book How to Build an Artist Website for free!
Craft Banter  
A crafting community with resources and forums on every topic you can think up.
Crafting With Your Hands: Needlework Arts!  
Quilting, Embroidery, Crochet, and Knitting Tutorials
Craftster 
Craft inspiration and advice abound on this site, in addition to craft communities for all sorts of makers.
The Switchboards 
Creative businesswomen share ideas, techniques, and all things business oriented in this crafting community.
BOOK ARTS
Book Arts Web 
Book Arts info, archives, links, and classes.
Book Arts Forum  
Discussions of everything book and paper arts are featured in this crafting community.
Printed Matter  
Sells artists books & multiples.
CROCHET & KNIT
Crochet Guild of America 
Membership privileges, access to message boards, free patterns, events, and resources.
eKnitting Stitches 
Free, easy to understand visual and written instructions on knitting.
The Knitting Guild Association  
Talk with knitting industry masters, patterns, chat with fellow knitters.
Ravelry  
Organize & share projects, search patterns, techniques.
EMBROIDERY & SEWING
BurdaStyle  
Sewing patterns, projects, skills tutorials.
Embroiderers' Guild of America  
Correspondence courses, certification programs, discussion groups are offered in this crafting community.
Studio Art Quilt Associates  
International organization providing information, links, resources and a Yahoo discussion group.
Threadbanger  
DIY fashion, create your own style.
FIBER ARTS
All Fiber Arts  
Links for all your fiber arts andtextile needs.
Textile Society of America  
Platform for professional development, contact with textile artists and experts, receipt of publications.
Weavolution 
Beginners and experts of weavers of all kinds gather, share and educate.
FINE ARTS & ILLUSTRATION
SkillShare
Find what fascinates you as you explore these Fine Art classes.
Deviant Art  
Critiques, inspirations and forums.
Fine-Art Community 
Forums on every art style and medium.
Illustration Friday 
Weekly challenges, links, forums.
GLASS WORK
Glass Artists Forum 
Community discussions of glass work of all kinds.
JEWELRY
Beading Design Jewelry 
Jewelry business & design guide, with resources and discussion forums for the crafting community
Ganoskin  
Tools, tutorials, and a whole plethora of links.
Jewelry Making Daily  
Forums, how-tos, & everything related to jewelry making.
PHOTOGRAPHY
Digital Photography Review 
Stay up-to-date on the latest equipment, news, and forums discussing your specific camera model.
Photosig 
Have your work critiqued and learn to critique others.
Photo.net  
Discussions of photography equipment, techniques, and supportive craft communities.
POTTERY
Claystation 
Video tutorials, discussions of materials & techniques.
Ceramic Arts Daily 
Information in boat-loads on ceramic arts, techniques, materials, and supplies. Also has an active crafting community.
PRINTMAKING
Meet Your Printmaker  
Inspirational blog featuring prints by varied artists in different techniques.
Print Universe 
Forums, groups, videos, and everything you need to get your creative juices flowing.
Printeresting  
Great resource of resources.
WOODWORKING
Popular Woodworking Magazine 
Everything you need to learn the fine art of woodworking.
Woodworkers Guild of America  
Connect with other woodworkers, freshen up on techniques, and view articles and videos.
Photograph courtesy of Amber Karnes