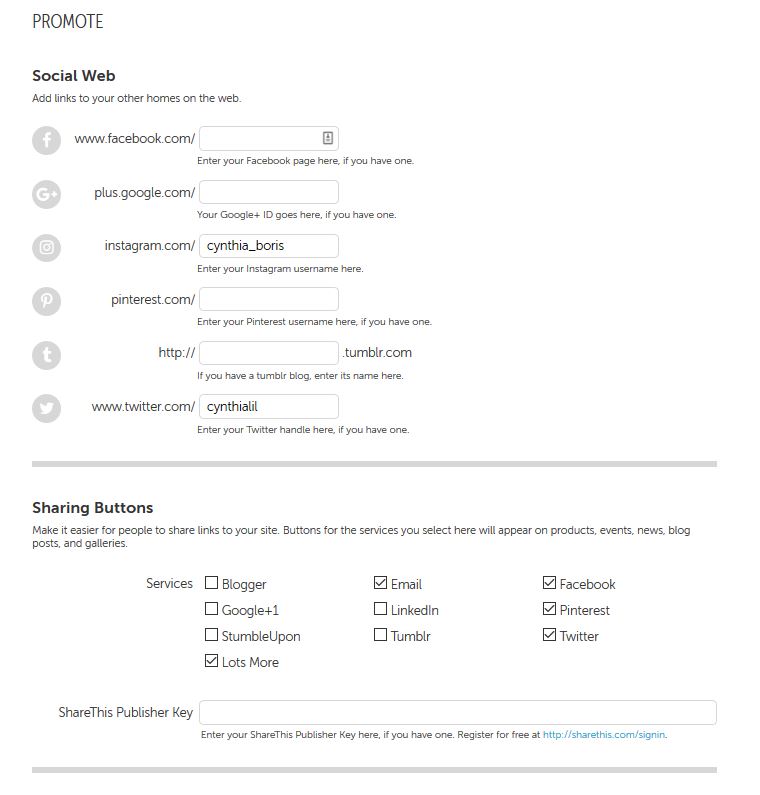 One way to increase traffic to your store and grow your brand is through social sharing. Your IndieMade dashboard has all the tools you need but some store owners aren't taking full advantage of all those tools have to offer.
Social Follow Tools
Let's begin with your personal channels. Do you have a Twitter account? Instagram? Facebook? The top section of the "Promote" section on your dashboard is dedicated to getting customers to follow you online.
Fill in each box with your social media address or handle and the theme you chose will do the rest. The buttons for your social accounts will automatically display on the top or bottom of your site. These buttons make it easy for current customers and potential customers to follow you, get to know you and learn when you have new products in your store.
As an artist, you should – at the very least – have an Instagram or Pinterest account. Both are very visual. Pinterest drives more traffic to your individual items because it automatically creates a link. Instagram doesn't allow links in your posts but you can link to your store in your bio. In that way, Instagram is great for growing your brand. It's also a social network that's on the rise and filled with visually oriented people who love creativity and artistry.
Twitter is also good for linking but works best if you're regularly posting blogs, news or linking to articles in your chosen field.
Facebook used to be the first stop for all businesses, but these days it's hard to get traction on a Facebook business site. So if your time is limited (and whose isn't?) I'd drop Facebook from the mix.
 Social Sharing Tools
The second section under the "Promote" section of your dashboard (located under Website) says "Sharing Buttons". These are vitally important and so many sellers have left these boxes unchecked.
As soon as you're done reading this, go in and check the boxes for Facebook, Twitter, Pinterest, Email and More. Notice, there's no button for Instagram because that platform doesn't allow direct sharing at the moment.
When you check these boxes, smaller social buttons will appear under each of your products. Exactly where and how depends on your current theme.
When a visitor clicks one of these buttons, the system auto generates a "post" for that social channel. If you have a matching account – say you're on Twitter – it will "tag" the post with your handle.
For example, my Twitter handle is Cynthialil. When someone clicks on the Twitter button below my product it formats this way: " Product Title | Name of Site  LINK TO PRODUCT  via @cynthialil "
When a visitor clicks to post, that Tweet shows up on THEIR Twitter account for all of their followers to see. Now they're doing my marketing for me and not only are they sharing a link to my store, but my social handle which is clickable and easy for others to find and follow me.
If you don't have a Twitter account, you're missing out on potential eyeballs.
Pinterest and Facebook work in a similar way but don't include your handle.
Why Your Title is Important
Note that when someone shares your item using a social sharing button, the product's title becomes the text of the post. That's super if you're using a complete title like " Silver and Amethyst Friendship Ring". But many sellers keyword stuff their titles or underuse their titles so the posts no longer make sense.
"Ring, silver, handmade, amethyst, mothers day, valentines day"
"Silver ring"
Or worse, labeling only the specifics and not the product
"Lavender and Rose" – on a soap site, so the seller assumes everyone knows it's a bar of soap.
What you're selling needs to be in the title of every item. It feels redundant, I know, but you have to image people seeing your title as a standalone, which is how they'll see it on social.   
Are you more likely to click on
"Lavender and Rose | Susan's Suds | LINK via @indiemade"
Or
"All Natural Goat's Milk Soap Scented with Lavender and Rose Handmade by Susan's Suds LINK via @susiesudzy"
The third part of the "Promote" page allows you to change how your social posts are displayed so you can include words like "Handmade" or customize the way your store name is included every time.
Making Sharing Easy is Easy
This may seem like a lot, but it's not. If you already have social accounts, all you have to do is spend a little time tweaking your sharing buttons now and then load social friendly titles every time you list a new product. If you make sharing easy for your visitors and they'll do your marketing for you and that's time well spent.