Instagram is the social media channel for both artists and online sellers. So if you're both of those, it's even more important that you up your game.
Instagram is a visual platform but there's more to it than just posting beautiful photos of your work. Here are five apps that will help you up your Instagram game, which should, in turn, lead to more followers, more engagement and more sales of your work.
iPhone and Android
This app quickly combines multiple photos from your camera roll into a creative collage. Choose from a variety of styles, flip photos, pinch to resize and move. Or just go with Layout's suggested options – they're usually pretty good.
I like this app for showing just sections of your work. It creates a sense of mystery and encourages followers to click through to see the entire piece. And since the app was made by Instagram, it works with all of your favorite filters and moving the finished work from app to app is easy.
iPhone
Over is a photo editing app with a sense of whimsy. The templates, clip art and colors lean toward the fanciful (which is not to say you couldn't go serious, but why fight what the app does best). With Over, it's easy to put together complex and eye-catching Instagram Stories as long as you have an eye for good design. There are so many options, beginners may find it overwhelming, but once you start to play around, it's a treasure trove of fun. Note that many of the best features are only available in the paid Pro version but there are plenty of free bits to try before you buy.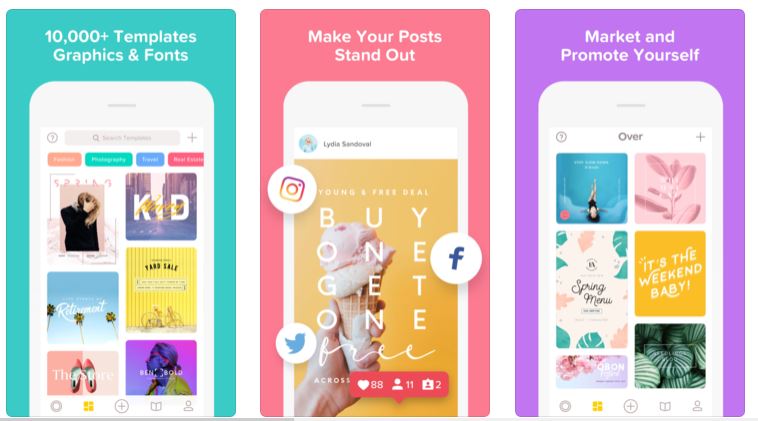 iPhone and Android
If your style is more classic than cute, you'll love Unfold. This photo and video editing app is designed for those who like clean, minimal designs. But don't think minimal means boring. Unfold taps into the world of art, photography and film for their templates which mimic old photographs, frames of film and deco décor. They call the app a "toolkit for storytellers" and it truly is.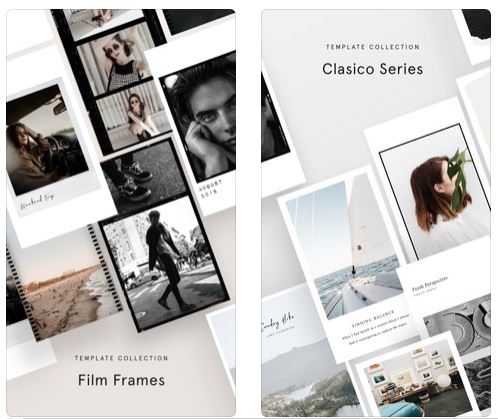 Now that you have lovely photos, you need hashtags to connect with a larger audience.
Lee Tags is a simple name for a powerful app. Type in your keywords and the app generates a list of related hashtags ranking them by popularity. Save the ones you like in your own section of the app so you can easily use them again and again.
Note: just because a tag is popular, doesn't mean you should use it. Always choose relevant tags (don't just tag a celeb because she's popular) and mix up the tags. Instagram doesn't like it when you copy and paste the same long list in every post. Niching down might mean less eyes on your post but more loyal followers and eventual sales because you're hitting your target audience.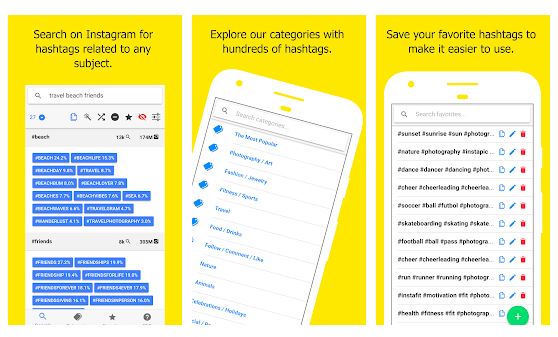 Now you have all this creative content, what do you do with it? You schedule it using Later.
Excellent content won't do you a lick of good if you're only posting a few times a month. Or worse, posting daily for a week, then nothing for the next two weeks.
When you use a scheduling app like Later, you can load a month's worth of evergreen content so a day doesn't go by without a post. By prescheduling, you can be more creative without having to think that way on the fly. You can also use it to design artful Instagram layouts where images across several days combine to tell the full story.
Best of all, Later is free for individuals for 1 account and up to 30 posts a month.
Here's the plan:
Set aside a few hours on one day to create a variety of posts that suit your brand.
Schedule those to go live – one a day – for as many as you can create in one sitting. Highlight your upcoming work, current items for sale and don't forget themed items for upcoming holidays.
Pick one activity during the week that you'll share live via Instagram Stories. This can be a work session, a trip to the store, a Q&A.  At the beginning, it's the regularity of the content, not the nature of the content that counts.
Throughout the week, when the spirit moves you, post photos on the fly with minimal fuss. Just push them out there and let them go.
If you follow these three steps on a weekly basis, your Instagram will begin to grow like never before. Pay attention to the posts that get the most interest and the ones that convert into sales. Was it the image? The time of day? The hashtag? Use what you've learned to tweak next week's content and keep on building.
Keeping an Instagram channel fresh and interesting is a lot of work but it's a fantastic marketing channel that you can't afford to miss out on if you want to sell your creative goods in 2019.
What's your favorite Instagram helper app?