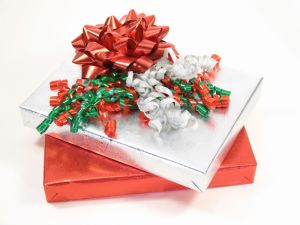 Everyone wants to give their friends and family members the perfect gift during the holidays but the number of choices on the internet can be overwhelming. That's why many consumers click on holiday gift guides from major retailers, online magazines and blogs. A great guide helps narrow down the choices and helps gift buyers locate that perfect item with just a few clicks.
Want to be this year's secret Santa? Just follow these simple steps to create your own holiday gift guide.
The Holiday Whos
The best way to handle a Gift Guide is to think of a particular person and create the guide for them. For example; Gifts for the Techy, Gifts for the Fashionista etc…You can also offer more simplistic categories such as Gifts for Him and Gifts for Her.  Either way, make sure you have  your target audience in mind as this will help your customers feel like your advice is valid. If you don't normally sell items for sports fans, now is not the time to start. Stick with what you do best.
Sharing the Wealth
If you sell a lot of different types of products, feel free to create a guide with only items from your store. If you only offer one type of product, it makes sense to partner with other online stores to bring their items in front of your customers, and your items in front of theirs.  By partnering together you are able to reach additional customers who are in your target market, but might not have heard of your brand yet.  It can be a great way to bring in new business and spread some holiday cheer.

For instance, if you wanted to have a Gift Guide for New Moms and you sell baby hats, perhaps finding a store that sells diaper bags, baby clothes or other relatable items could help get you new clients.  Talk to your potential partners to be sure that everyone will be working to promote the guide to their client base.  It helps to establish clear guidelines such as, each person will feature the guide on their blog as well as a Facebook post and an announcement on Twitter.
Spoiled for Choice
When it comes to a solid gift guide, featuring more than 10 items per target market can be a bit overwhelming. It is better to offer fewer products, with great product photos and descriptions, rather than overload your potential customers with 30 or 40 different items to choose from.  It has been said that when people have too many things to choose from they end up choosing nothing instead, so make sure that your guide is thorough, but also easy enough to navigate.
Spread the Good Word
The best way to present your gift guide on your IndieMade website is to create a new page under the Content tab. You can also use your blog as a gift guide with a series of posts dedicated to each type of recipient; Gift for Mom on Monday, Gifts for Dad on Tuesday etc. Be sure to tie all of the posts together through the use of a Holiday 2014 Gift Guide tag.
Once you have created your gift guide and have shared it on your website, start approaching blogs with your guide to see if they would like to feature it for their readers.  Many blogs will send out their own gift guides at this time of year, but if the work is already done for them and there are great products to offer to their readers, they may share your's as well.  When you approach a blog for a feature be sure to check that they are reaching the correct target market for your guide.  This is where having a very targeted gift guide comes in handy instead of just offering more generic categories.
A Visual Guide
Make your guide do double duty by adding those same items to a gift guide board on Pinterest! Even if some of the products that get pinned through your guide are other stores' products and not direct sales for you, you can get more traffic to your site through the pin link.  Pinterest is a great way for people to visualize products as gifts, so again this comes back to having great product photos so that you will get those pinners excited about what you have to offer. 
Timing is Everything
Lastly, be sure to get your gift guide up as early as possible this season.  A lot of people are already doing their holiday shopping, and if you are offering custom products that need time for production or shipping, you want give your customers enough time to make those buying decisions. 
Gift guides are a great way to get your products in front of larger audiences, while also offering a specialized service to your customers by helping them choose gifts for their friends and loved ones.
Have fun creating your gift guide this holiday season!
Other Similar Content