The following is a guest post from Holly Neitzel of Accounting SPOT.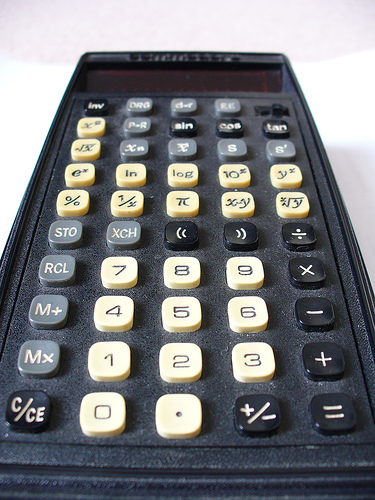 photo by Clive Darr
1. Know the very basic
It might go without saying...but then again it might not. Revenue - Expenses = Profit
2. Separate your business funds from your personal funds
Bank, PayPal & Credit cards. The books are SO much easier to balance when there are only related transactions to deal with.
3. Downloading detail is your friend
PayPal and probably your bank and credit cards have the option to download transaction detail in to excel and/or QuickBooks. USE THIS OPTION! The less data entry you have to do, the more time and accuracy you gain.
4. Keep your paper (and computer files) organized
You don't need to enter your transactions in to an accounting program daily. But, if you keep all the information organized in between entry points, entry will go much smoother.
5. Accounting software: Start simple...& free
Start with the free versions and work your way up as your business grows. Some of the options I endorse: QuickBooks, & Outright
6. Use the Schedule C as a guide for your expense categories
It is not the end-all, be-all of expense categories, but it is a great starting point. Use these categories and then add in your own subcategories as necessary for your business. View the Schedule C
7. Reconcile your accounts
Doing this assures you know what is coming and going from your bank/PayPal accounts.
8.Don't do your bookkeeping FOR the IRS
Many owners do their bookkeeping 'for' the tax man. This is backwards. You do your bookkeeping for YOU and as a result, can easily share the required info with the tax man.
9. When in doubt, research the answer
Just be sure you are using a reliable resource when doing your research. Some that I use often are: The QuickBooks Community Forum (answers to many questions beyond just QB) and The Small Business Administration.
10. Review and use
After taking the time to create accurate financial reports, be sure to USE them! Financial reports are the basis of sound business decisions. Knowing the health of your business allows you to make good choices for your business' future.

Holly Neitzel of Accounting SPOT, LLC, is a work at home mom, living the best of both worlds. She has a BA in Accounting, Masters in Business, and is a Certified QuickBooks ProAdvisor. She provides accounting and bookkeeping support for micro and small businesses. And she LOVES doing it!