Blakely Bass, all around retail superstar and owner of Resident Apparel Gallery (RAG) in San Francisco, knows a thing or two about indie business success. While Blakely had not always imagined herself part of the fashion world, she became interested in the promotion and backing of local design and manufacturing while supporting San Francisco artists and designers at local events and trunk shows in early 2001.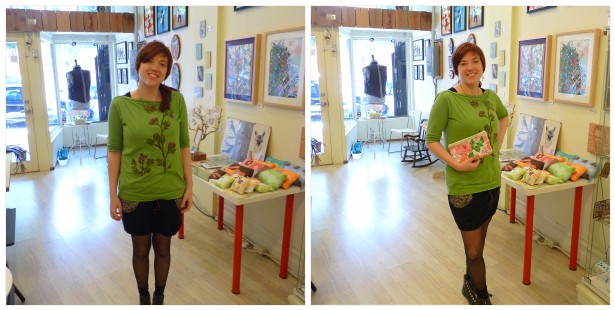 RAG owner Blakely Bass
With an interest in craft as a child and an education in biochemistry and enviromental studies, Blakely believed that San Francisco artists and designers were in need of a sustainable community indie business model to promote and sell their work locally. At the age of 27, Blakely opened RAG in 2002 and has since become the Bay Area's foremost seller and supporter of local designers.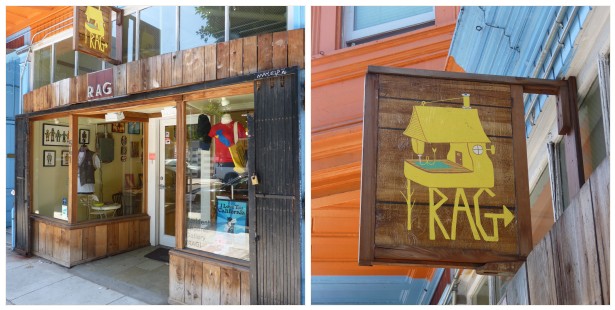 Residents Apparel Gallery storefront
By supporting San Francisco artists, designers and manufacturing, RAG has become an integral part of the Bay Area's indie business economy. It helps keep jobs in every aspect of product creation, from design to manufacturing and shipping, within the city.  Not only does this keep independent design and art alive in San Francisco, but it also models green and sustainable indie business practices.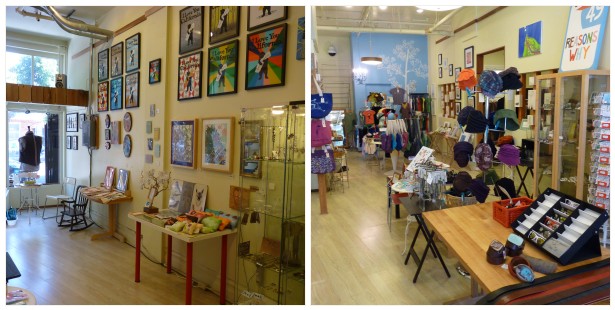 RAG interior
RAG currently consigns the work of more than 120 San Francisco artists and designers monthly with more than 600 new and old designers since 2002.  Blakely requires that that every featured designer and artist must produce their work in California —no exceptions.  Blakely strongly believes in supporting local artists and encourages each designer to display a biography and story about his or her line to give customers a real sense of the indie business that created each piece, and how it was made.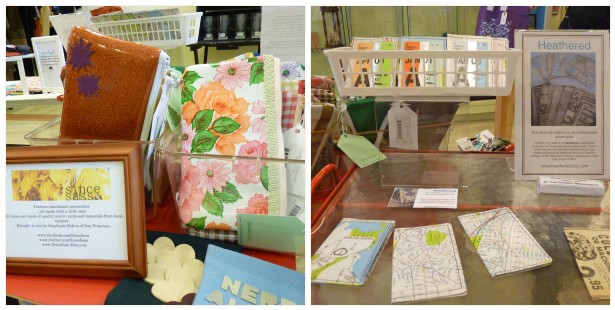 RAG Designers Since Sass and Heathered
About 25% of the merchandise at RAG is currently made from upcycled clothing and manufactured using green and eco-friendly practices, such as using water-soluble inks and recycled paper.  As a scientist and environmentalist, Blakely is committed to running a green and sustainable indie business.  In 2006, RAG was certified as a San Francisco and Bay Area Green Business, a difficult feat. It was only the second retail store in the city at the time to be certified green compliant.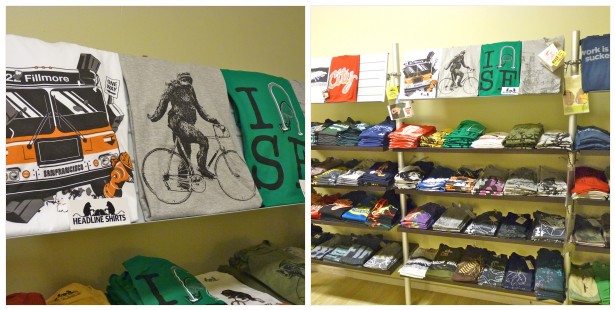 RAG Designer Headline Shirts
Located in the super-trendy Hayes Valley neighborhood of San Francisco, RAG is among some of the most touted and written-about boutiques in the country.  People from all over the world come to shop in Hayes Valley, seeking out that special one-of-a-kind find.  What keeps locals and tourists coming back for more is Blakely's genuine interest and extensive knowledge about RAG's merchandise.  Blakely takes the time to get to know each of the San Francisco artists in her shop, and can tell customers everything there is to know about a particular item, making shopping at RAG a true San Francisco experience.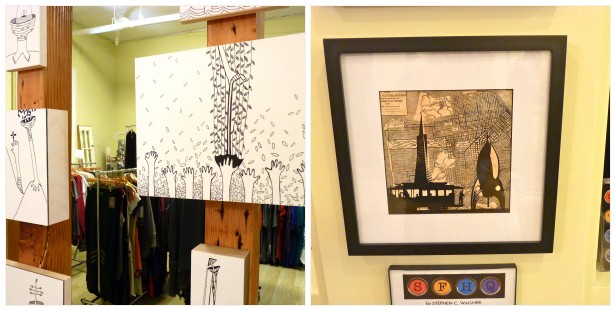 RAG Artists Jennifer Maria Harris and Stephen C. Wagner
Talk to any of RAG's featured designers and artists and you will hear nothing but love for Blakely! Just one visit to RAG and it is immediately evident just how much Blakely truly supports RAG's designers.  Everything is beautifully merchandised and indie business owners are given a real chance to share their story with personalized displays and featured bios. 
RAG Artist Annie Galvin
RAG is more than just a retail store. As part of Blakely's mission to create a sustainable community indoe business model, RAG hosts gallery nights and designer showcases to involve the local community as well as giving RAG artists and designers a chance to meet and network. 
A true success story, Blakely Bass is an inspiration to local artists and designers.  RAG has become a San Francisco institution and a true modern retail business model. For those of you in the San Francisco Bay Area, you can visit RAG and say hello to Blakely at 541 Octavia Street  in San Francisco or online at www.ragsf.com
Signing off by the Golden Gate,
Lisa