If you're a jewelry artist, you already know you're in a competitive market.  It's important to produce unique designs with high quality components while keeping costs of your materials at a reasonable level.  There has been an explosion of online suppliers feeding the growing market, but many of them have poor quality.  Many indie artists feel it's a selling point to use made in USA materials.  This list of online sources was compiled with quality, country of origin, and price in mind.
B'sue Boutiques:  For those of you that want to buy Made in USA components, B'sue specializes in them.  Multitudes of brass stampings in eight different finishes are offered, plus raw brass so you can create your own finish.  Also available:  beads, lockets, charms, pendants, steampunk style findings, and jewelry making tools and mixed media products.  There is an online catalog and Etsy shop plus a wonderful YouTube channel that has over 180 instructional videos showing how to create various jewelry pieces with the items sold on the site.
A shipment of unsorted brass stampings in a silver finish, all Made in USA from B'sue Boutiques: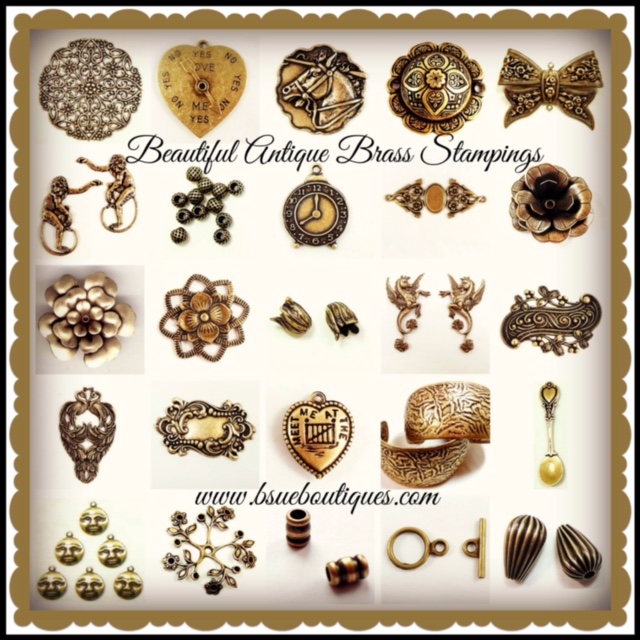 Jewelry Supply.com  All manner of jewelry making supplies are offered by Jewelry Supply.com, from seed beads to chain to tools.  The site also has their own jewelry making videos and DIY projects.
Rings 'n Things  Rings 'n Things is a volume-discount supplier of beads, gems, pearls, Swarovski crystals, jewelry findings, and jewelry-making supplies. They also have African trade beads and jewelry making kits for sale on their site.
Vintage Jewelry Supplies  The Vintage Jewelry Supplies Company Inc. specializes in brass stampings and components in antique platings such as oxidized sterling silver, brass, and copper.  Like B'sue Boutiques, they offer raw brass so the jewelry artist can create their own patina.  Many stampings are inspired by original dies used during the Victorian era.
Bumbershoot Designs and Supplies  Bumbershoot specializes in high quality antique and contemporary materials for jewelry and mixed media art including vintage beads, rhinestones, cabochons, buttons, trims and more.   They also have an Etsy shop of the same name.
Vintage embellishments from Bumbershoot Designs and Supplies: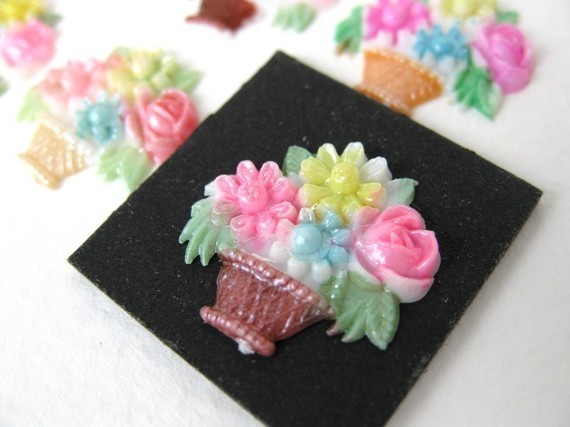 Chain Gallery.com  The Chain Gallery specializes in chain, as the name indicates.  They are known for their quality jewelry chain and have supplied the fashion industry as well as small scale crafters with their own manufactured chain as well as imported varieties.  They also carry other jewelry making supplies such as licorice leather and a variety of clasps.
RioGrande.com  Called "Rio" by repeat customers, this is one of the largest jewelry making suppliers in the world.  Rio's online catalog includes an assortment of findings, tools, gemstones, display pieces, and packaging for finished creations.
Fusion Beads Fusion Beads offers a wide variety of beads and other items, from Swarovski crystal beads to instructional books to tools, pearls, charms, and mixed media materials.
Beadaholique.com  Beadaholique, as the name implies, is a bead supplier, but there's much more:  metal stampings and filigree; chain; jewelry making tools; vintage items; pendants; Swarovski Elements; and charms.   Their focus is on providing quality materials for the beading artist at low prices.  They offer free shipping on all U.S. orders.
Halstead  Bead  Halstead is a wholesale-only supplier of sterling, gold-filled, copper, and other metal findings, charms and wire for the jewelry artist.  A one hundred dollar minimum order is required.
Blue Buddha Boutique  Blue Buddha specializes in chainmaille supplies.  Chainmaille is jewelry made from multiple rings. They sell high quality 100%-Made-in-the-USA components whenever possible.  They also sell jewelry making kits.
Examples of chainmaille jewelry from Blue Buddha Boutique: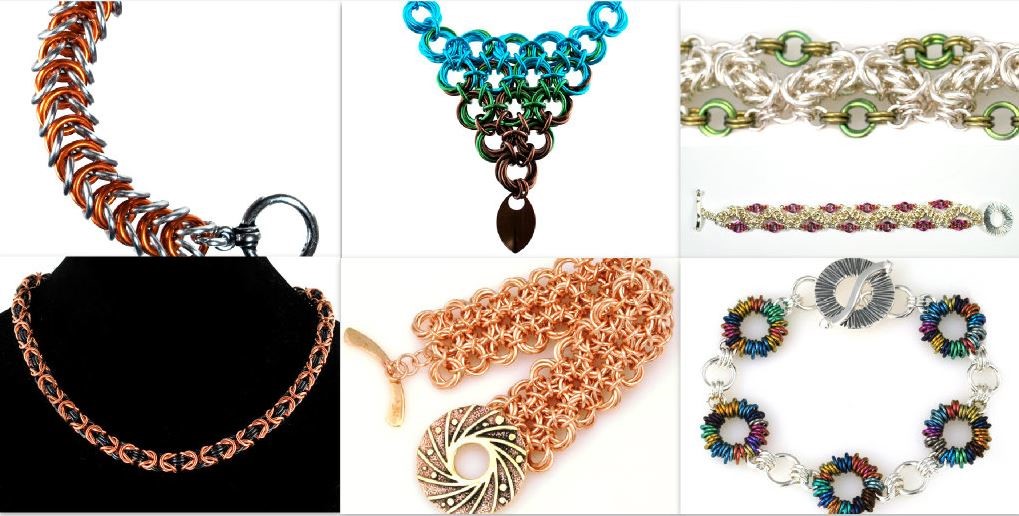 Fire Mountain Gems  Fire Mountain Gems offers 91,000 different jewelry making supplies to customers worldwide.  They have a huge assortment of beads, as well as findings, gems, and chain.  Fire Mountain also has a nice selection of display pieces and packaging for finished jewelry creations..
Charm Factory  A great source for sterling silver and silver tone (pewter) charms, charm bracelets, European style beads, jewelry tags, pendants, pins, and message beads are also offered.
Shipwreck Beads  Shipwreck Beads is the largest US retailer of Czech glass beads.  They also offer  Swarovski crystal, gemstones, sterling silver, lamp work beads, pewter, books, beading accessories, stringing materials, and jewelry making tools.   
The showroom at Shipwreck Beads in Mud Bay, Washington: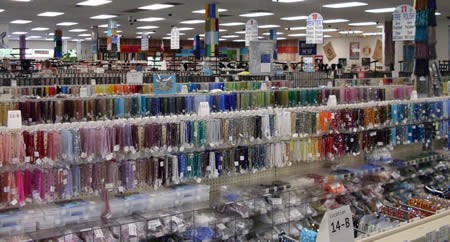 Too Cute Beads  Not just beads, but charms, pendants, metal findings, jewelry kits, leather and cork, tools, and glues for the jewelry artist.  Special beads include Murano glass beads and Swarovski Elements.
Lima Beads  Based in Ann Arbor, Michigan, Lima Beads specializes in quality beads, findings, chain, charms, and pendants.  They carry beads from various suppliers and artists large and small, such as TierraCast and Humble Beads.
Alpha Imports:  A source for diamonds and other precious gems, semi-precious gems, and wholesale lots at great prices.
Aunties Beads  Aunties Beads specializes in  the best quality, customer-reviewed and rated beads, components, and beading supplies.
The Whimsical Bead  An Australian supplier who ships worldwide (free shipping for orders over $150.00), the Whimsical Bead specializes in polymer clay, but has supplies for other media including metal clay, resin, beading, and mixed media.
Eureka!  Beads Eureka! Beads is another Australian supplier of all things bead related - from a large selection  of beads (glass beads, gemstone beads, large hole beads, metal beads, Swarovski crystal and more), to stringing materials, beading tools and findings  needed to complete jewelry projects.  
Etsy and Ebay:  There are numerous suppliers on both sites.  You can do a "search" using the term "destash" or "wholesale lot" under the category of "Jewelry Supplies" and will be given a choice of many interesting items from various sellers.